Happy Friday, Madison!
I've good good news and bad news this morning.
First, the good news. If you're looking for a monkeypox vaccine, Public Health Madison and Dane County is now scheduling appointments for next week and has "plenty of openings."
If you live in Dane County and meet the eligibility criteria, give them a call at (608) 243-0556 to set up an appointment.
Now, the bad news. Dane County has tipped from the "medium" category back into the "high" Covid-19 activity category.
What does this mean for you? PHMDC says the best possible way to keep protected from Covid-19 infection is to stay up to date on vaccinations and make sure you wear a well-fitting mask when indoors in public, regardless of vaccination status.
If you want to learn more about the numbers and metrics behind the community level ratings, PHMDC put together a nice explainer.
— Hayley
---
✅ Make sure your ballot counts.
Provisional voters have until 4:00 p.m. today to return their ballots to the City Clerk's office. Be sure you bring your photo ID. Check here for a full list of accepted forms of identification.
🗳 Voter turnout for the primary was huge.
🚫 Watch out for these street closures.
📚 Looking for something to read but not sure where to start?
The social media accounts of Room of One's Own bookstore are filled with whimsical flowcharts for those of us who would love to pick up a new book but have absolutely no idea where to start. Want to learn about abolition? There's a flow chart for that. What about sci-fi? There's a chart for that. Something gay, perhaps? You can bet there are several charts for that.
📻 You could be the next host of "A Public Affair."
WORT is looking for its next talk show host. A Public Affair is the station's daily hour long call-in talk program, "which aims to engage listeners in a conversation on social, cultural, and political issues of importance."
WORT is currently looking for a Monday host. If chatting with people on air sounds like fun to you, check out all the details and consider applying.
The application deadline is Monday, Aug. 29. Note: This isn't a paid opportunity.
🍔 For funsies: Kids in Oregon are lining up toy cars in anticipation of the arrival of the city's first Culver's.
It's pretty cute. Check out the photos and story from the Wisconsin State Journal.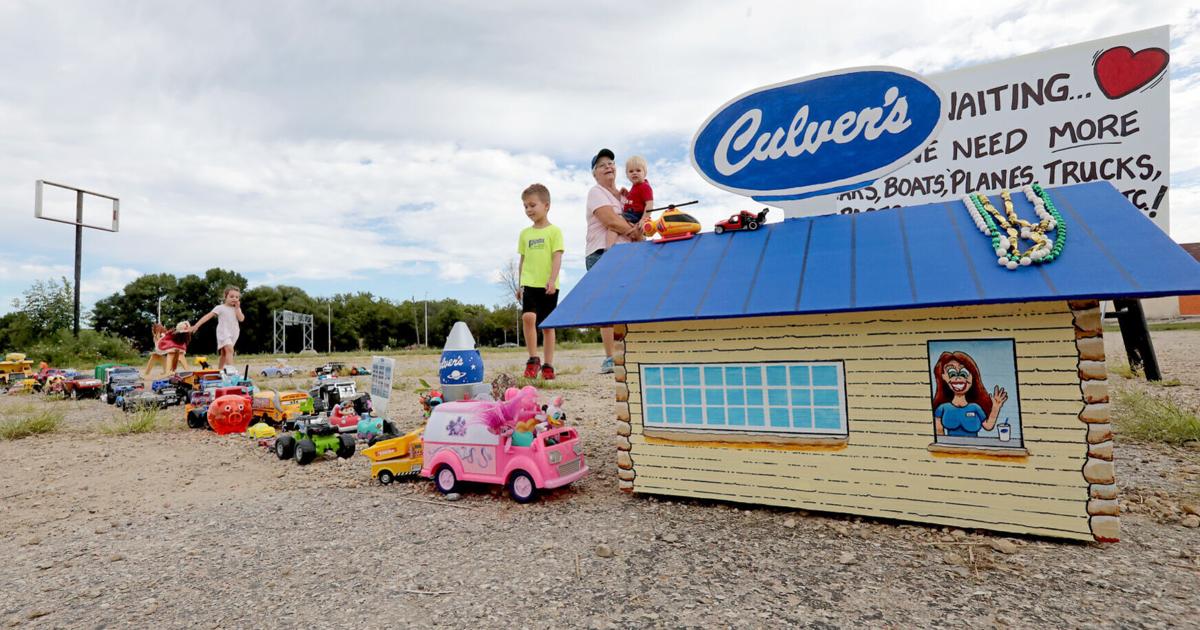 🏫 Your lunchtime read: 'An impossible situation:' Members leaving school boards amid politicization, divisiveness.
Via Cap Times: "Rick Grothaus graduated from Oconomowoc public schools in 1978.

He came back and taught in Oconomowoc public schools from 1984 to 1987.

After retiring from a school administrator position in a nearby district, he ran for the Oconomowoc School Board, winning one of two seats in April 2020. Soon after, his fellow board members elected him board president.

Less than 14 months later — not even halfway through his term — he and two of his colleagues resigned from the board together, citing a lack of good faith collaboration, the growing prevalence of "culture wars" and the majority's response to the pandemic."
---
🦠 Covid-19 update
🔗 Related links
---
🐶 Friday Floof
Happy Friday, y'all! Let's get floofy. Meet Tank. He's a one year old English Lab living, laughing, and loving on the west side of Madison. This cutie loves wheelbarrow rides and following his baby (human) sister everywhere. But let's be honest, who wouldn't want a face like that following them around?!
---
📅 Events: Ladies and gentlemen, the weekend
Today
Saturday
Sunday
---
📝 Miss a Minute? Check out yesterday's newsletter.
🗣️ Want your message to reach Madison? Learn about our advertising options.
⏪ Want more Minutes? Catch up on past newsletters here.
💙 Did a friend forward you this? Sign up for our email newsletters here.
📨 Need something else? Email us at contact@madisonminutes.com.