Goooooood morning, Madison!
Did you miss me?
Big thanks to Sam for holding down the fort while I was away looking at rockstars and reliving some core middle school memories.
Back in the real world, today we're celebrating Voter Registration Day. In Wisconsin, voters can register online, in person, or by mail up to 20 days before election day or in person at the polls.
Let's go over the basics real quick. Here's what you'll need.
Established residence: Wisconsin requires 28 days to establish residency at a new address. If you've moved since the last election, you'll need to update your registration.
Proof of residence: Proof of residence materials may be presented in either a paper or an electronic format. Some examples include recent utility bills, a current and valid Wisconsin ID, a paycheck, or a mortgage statement. Check out the full list of accepted forms here.
Not sure if you're registered? Head to myvote.wi.gov to easily search for your registration status.
The City Clerk's Office is hosting dozens of voter registration drives in the coming weeks. Check out this list to find one near you.
For more detailed information, check out this guide from the Wisconsin League of Women Voters.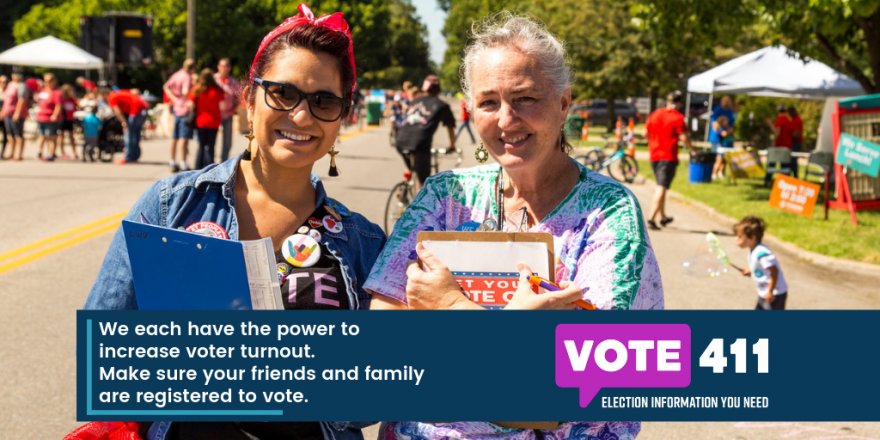 — Hayley
---
Madison Minutes thanks our advertising partners. Become one.
💉 Public Health Madison & Dane County is extending its hours to give Covid-19 boosters.
🗳 Applications for the newly-vacant City Council seat are open and one person has already put their name in.
📝 City Council will talk tear gas tonight.
The council will take up an ordinance tonight that bans the use of tear gas as a means of crowd control in the city. Though the sponsoring alder says the proposal likely won't get the needed votes to pass.
Some context: This is the second time the council has considered such a proposal. The first time was in July 2020 in the wake of protests following the murder of George Floyd. The plan was ultimately rejected a few months later. In June 2022, Ald. Juliana Bennett, who represents the heavily student-populated District 8, introduced the resolution again. The proposed ordinance is not a total ban on chemical munitions. It allows for their use in extreme situations, WORT reports.
The response: So far, Madison Police Chief Shon Barnes has come out against the proposal, calling the move "punitive and regressive." On Monday, several Republican candidates for office including attorney general candidate Eric Toney, Dane County Board supervisor Jeff Weigand, and Dane County sheriff candidate Anthony Hamilton called on City Council to abandon the proposed ordinance. The group said the proposal puts an "unnecessary and dangerous burden on law enforcement," the Journal Sentinel reports.
🏆 A New York Times favorite on the isthmus.
Harvey House has been making waves since it first opened the doors to its train car dining room in July 2021. Now the restaurant has been named one of the New York Times' 50 favorite restaurants of 2022.
"The cavalcade of kitsch pervading many modern supper clubs invites diners to consume their meals with ironic detachment. But Harvey House distinguishes itself with sincerity," the Times writes. "In the capital city of the supper-club capital of the world, [owner Joe] Papach's flirtations with perfection feel patriotic." I'd raise my martini glass to that. (Preferably dirty, with gin and olives.)
🎧 Step inside Madison's newest record shop.
Boneset Records officially opened its doors at 222 North St. in Eken Park on Aug. 21 but its origins are steeped in Madison history. Owner Maggie Denman was given a unique opportunity when her former boss Gary John Feest of Sugar Shack Records announced the closure of his Atwood Avenue store — the building was sold and Feest wanted to retire — and offered her his remaining inventory of Vinyls, cassettes, CDs, and VHS tapes.
For now, the shop is only open on weekends, Cap Times reports. Denman is working on carving out her niche in the market, in addition to records and tapes, Boneset also has racks of vintage clothing for sale. "I kind of created the store (as) a place for me to hang out," Denman told Cap Times. "I hope people want to come and hang out with me."
👻 Your lunchtime read: Meet Madison's Ghosts.
Via Madison Magazine: "The spirits walk among us.

They haunt the buildings where we work, the spots we pass downtown and the creepy places we try hard to avoid. Some are born of history, of actual tragic events that still live in the registers and in our memories. Others are the stuff of legends and lore, growing deeper, spookier and more believable with every recounting.

And in Madison, there are quite a lot of them."
---
📅 Events: Tuesday
Tomorrow
---
📝 Miss a Minute? Check out yesterday's newsletter.
🗣️ Want your message to reach Madison? Learn about our advertising options.
⏪ Miss a day? Catch up on past newsletters here.
💙 Did a friend forward you this? Sign up for our email newsletters here.
📨 Need something else? Email us at contact@madisonminutes.com.